If you are looking forward to getting an in-depth understanding of computers with the BCA program you have landed on the right page. Here in this article, we have listed the top 5 best IPU BCA colleges in Delhi
IPU is well known to people domiciled in Delhi and NCR. There are many colleges affiliated with IPU offering BCA programs to students. During the 3 years, BCA program students get an insight into software and hardware development along with some internship opportunities.
To ease the selection of the best BCA college in IPU we have ranked colleges as under:
Top 5 Best IPU BCA Colleges in Delhi
1. Fairfield Institute of Management and technology
FIMT is among the prominent name in the field of BCA in Delhi. Commonly known as FIMT, the institute is affiliated with Guru Gobind Singh Indraprastha University and is also Govt. of NCT Delhi approved. Fairfield Institute of Management and Technology has been ranked as the top BCA college in IPU university in our list because of its administrative and technical facilities, placement assistance, and opportunities. FIMT campus is located in Kapashera, New Delhi. Along with all basic amenities, it offers a dedicated career office and entrepreneurship development cell.
The career office at FIMT understands the importance of the overall development of students and gives stress on one-to-one counseling. It is also actively involved in organizing career fairs, resume advice sessions, and mock interview granting workshops. The entire department is dedicated to understanding their students and finding the right job opportunities for them.
If a job is not your end goal, Entrepreneurship Development Cell is your companion. ED cell at FIMT works towards the creation of new entrepreneurs and has generated many successful ones.
2. Trinity Institute of Professional Studies
Trinity Institute of Professional Studies (TIPS) is ranked number 2 in our list of top BCA colleges at IPU university. This is again located in West Delhi. Institute hosts its campus in Sector 9 Dwarka Institutional Area and is run under the guidance of Dr. R.K.Tandon as Chairman. It is a private college and has been accredited A+ Grade by SFRC, Govt. of Delhi. TIPS has been delivering excellent education for over 15 years with their BCA program they enable the students to grab promising placement opportunities.
Experience-based learning at TIPS encourages students to be part of activities like conferences, interviews, seminars, IT quizzes, etc. This enables the overall grooming of students.
Various workshops, life skills sessions, counseling sessions, alumni interactions, eminent lecture series, and industry visits, are conducted regularly to provide practical exposure to students. TIPS focuses on providing academic inputs through the latest teaching pedagogies.
3. Jagannath International Management School
Commonly known as JIMS has emerged as one of the topmost institutes for BCA in IPU. JIMS was established in 2003 and has been awarded grade 'A' by SFRC of Govt. of NCT of Delhi for the last five years.  JIMS campus is located in Vasant Kunj, New Delhi. This institute is ranked number 3 in our list of best BCA colleges of IPU. It recently made history when it tied with Harvard Business School Online to offer niche programs.
JIMS BCA program is backed with quality education, overall grooming, and placement opportunities for students. the institute is actively involved in keeping up with industry requirements and has been awarded a 4-star ranking for its Institution Innovation Council achievements. it has also become a participating member of UNGC and UPRME, New York which helps them in the right technology trade.
JIMS has been ranked 22nd and 7th top BCA college in India by India Today Survey 2021 and GHRDC Survey, 2021 respectively.
4. Maharaja Surajmal Institute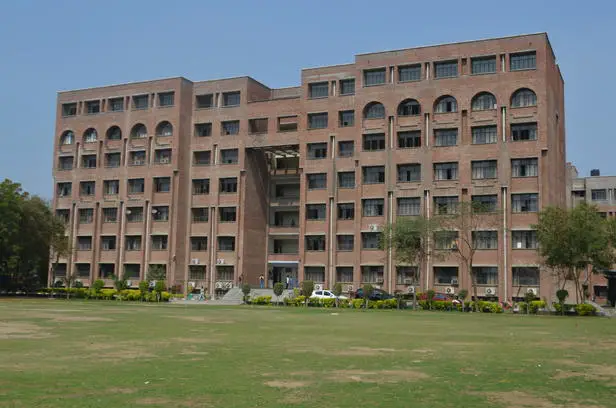 Located in Janakpuri, New Delhi, Maharaj Surajmal Institute is in position 4 in our list of top BCA colleges under IPU. It is again a private college running in the morning as well as evening shifts. It was established in 1999 by the Surajmal Memorial Education Society. Members of the society include dedicated and selfless educationists and social workers. Maharaja Surajmal Institute runs under the expert guidance of Sh. Kaptan Singh as Chairman.
Institute has a lush green campus of 8 acres along with a well-equipped library, computer labs, and other administrative and technical facilities. Institute promotes creative ideas and identifies methods to impart state-of-the-art education to its students. MSI not only has good campus placement records but is also involved in active future tie-ups.
5. Sirifort College of Computer Technology and Management
With 23 years of academic leadership, Sirifort College of Computer and Technology and Management ranks 5th in our list of best BCA colleges at IPU. SIMS is located in Institutional Area, Rohini, Delhi, and offer the undergraduate program as per the norms of GGSIPU.
SIMS has excellent placements and internships records for their BCA students and also offers scholarships to meritorious students. Institute has prestigious corporate links and along with workshops, it organizes educational trips, workshops, guest lectures, industrial visits, and field assignments.
Institute runs the BCA program in 2 shifts had offers 120 seats per year in total. SIMS was established in 19999 under the dynamic leadership of its founder Chairman Sh. S.S.Dagar. It runs under the Surjan Singh Risal Singh Memorial Education Society. Society aims to achieve a position of excellence in information technology by increasing the participation of students in learning activities and training youth for a better tomorrow.
All the above-mentioned colleges offer admission through Common Entrance Test (CET) conducted by GGSIPU. So, start your journey to becoming a software developer, web designer, or system manager with BCA. We are sure this list of the top 5 BCA colleges in IPU was helpful to you in decision-making.